Where people go when they leave the Bay Area
Using data to look at regional turnover
Happy New Year! Thanks for joining me for the eighth issue of the Golden Stats Warrior, a newsletter for data-based insights about the Bay Area. If this is your first time reading, welcome! If you haven't signed up yet, you can do that here. It was hekka exciting to receive so much nice feedback about the recent slang edition. This week's edition is a bit shorter because of the holidays.
---
The Bay Area really is changing fast. According to an analysis I did for my day job at Quartz, about 4% of the Bay Area's population left every year from 2013 to 2017, with a bit more than 4% arriving—the area's population is increasing a bit each year. That's around 190,000 people coming and going from an area with 4.6 million people. For a metropolitan area of its size, that is an unusually high rate of turnover. (For this analysis we are using the San Francisco-Oakland metropolitan area that does not include San Jose).
So who is coming to the Bay, and who is leaving?
The simple story is that it's just a bunch of rich, tech industry bros pushing out locals. While there is certainly some truth to that, the reality is more complex. In terms of income and demographics, there are actually all sorts of people coming to the Bay Area: rich, poor and of nearly every background.
Still, if we look at who is arriving more quickly than they are leaving, it tends to be people in their twenties and thirties, white and Asian, and those with relatively high incomes. The people leaving more quickly than they are arriving are the elderly, black and lower income. The following tables are based on my analysis of US Census data from 2013-2017—more recent data is not available. (The numbers are estimates, not exact figures, but are likely to be accurate within about 3-5,000 people).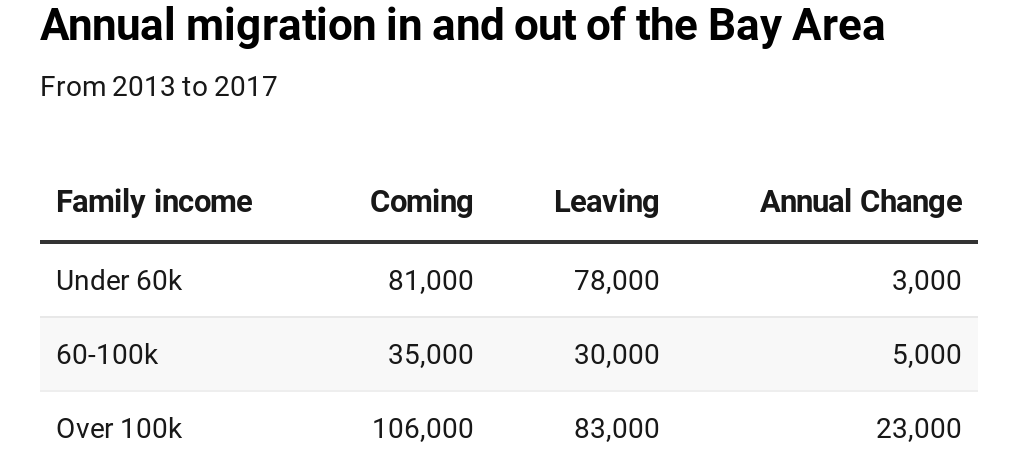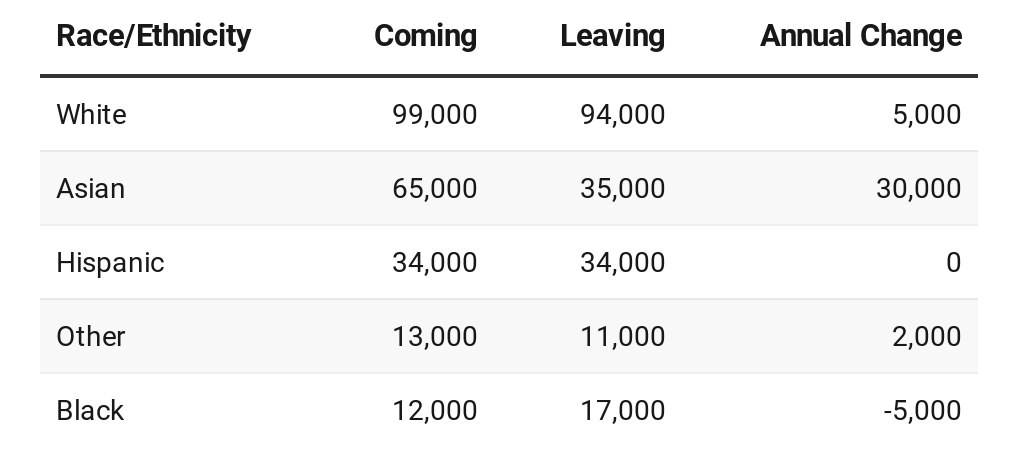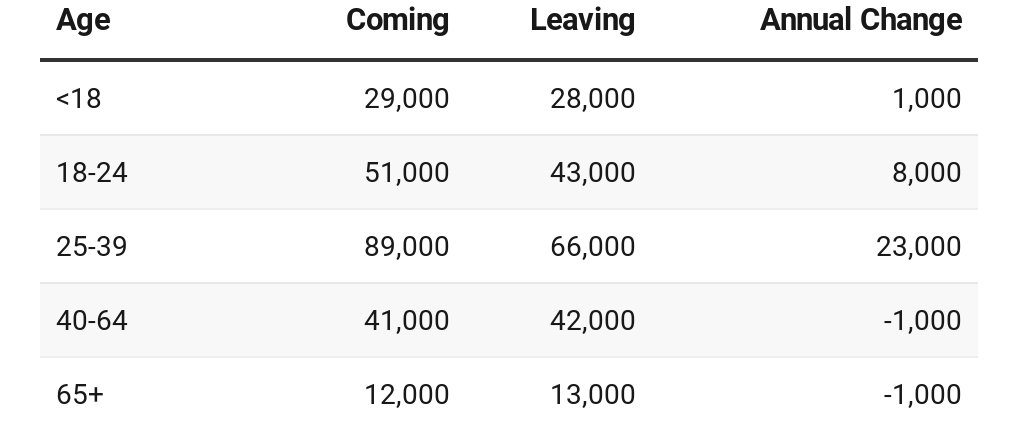 In the data above, we can see that 23,000 more people from families making at least $100,000 arrived than left each year—which fits the simple narrative. Yet the number of people making under $60,000 arriving annually is 3,000 higher than the number of people leaving.
Perhaps the most striking change is how many more people who identify as Asian are coming to the area than exiting. That's why San Francisco may soon become the US's first major city to be majority Asian.
About 60% of the people who move away from the SF-Oakland metro area, but stayed in the US, go to other parts of California. 57% of arrivals also come from other parts of the state. The most common counties people leave for are Santa Clara (10%), Los Angeles (7%) San Joaquin (6%), Sacramento (5%), and Solano (5%).
When people go to another state, they are most likely to go Texas (4.2%) and Washington (3.6%). The share of arrivals is highest from New York state (4.8%). (Again, the numbers below are estimates, not exact figures.)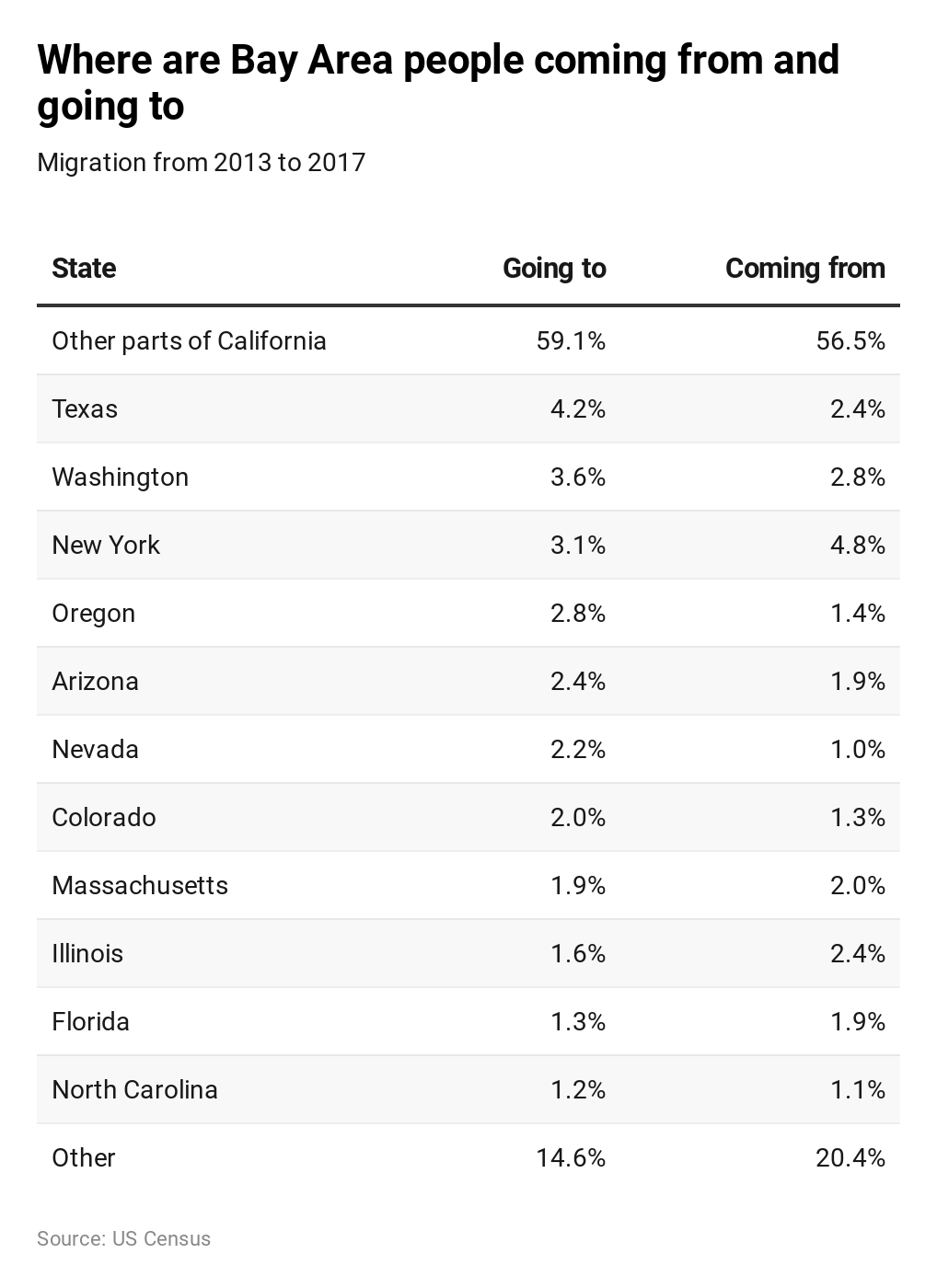 Where people go when they leave the Bay varies hugely by demographics. For example, white people are most likely to leave for Washington (5%), Oregon (4%) and New York (4%), while black people are most likely to leave for Texas (9%), Nevada (3.5%) and Maryland (3%). (I wrote a story for Quartz about the wonderful movie Last Black Man in San Francisco, where I go a little deeper on these figures for San Francisco.)
People in families making over $100,000 are most likely to leave for Washington, but those making less than $60,000 are most likely to head for Texas. Finally, older people tend to head for Arizona and Nevada, while 25-39 year olds have the highest probability of going to Texas and New York.
Many of these changes are driven by the high costs of housing in the area. If you want to learn more about what is going on in the Bay Area real estate market, and why so many people feel the need to leave the Bay, I encourage you to follow the work of Roland Li at the San Francisco Chronicle.
Bay Area media recommendation of the week
The Bay Area is a mecca of hip-hop. From Too Short, to MC Hammer, to Mac Dre and Souls of Mischief, the region has been central to hip-hop's development in terms of its sound, style and business template. The extent of the region's importance becomes clear by listening to the photojournalist Eric Arnold on the podcast East Bay Yesterday. One of the highlights of the episode is hearing Arnold explain the influence of two movies filmed in the East Bay, Space is the Place and The Mack, in marking one of the "central dichotomies" in hip-hop between afrofuturism and pimpism.
(If you read or listened to something great about the Bay Area this week, please send it to me!)
Dan's favorite things
After listening to the podcast mentioned above, I suggest you head to check out the "Soul of a Nation: Art in the Age of Black Power" exhibit showing at the de Young museum through March 15, 2020. The show focuses on the work of black artists working in the US from 1963 to 1983, many of whom were based in California. I went to the show with my friend Jared Joiner, and I asked him for his review:
"The exhibit opened my eyes to how radical Black artists and their pieces accompanied the ongoing fight for rights, dignity, and humanity for Black people. I was particularly moved thinking about how displays and exhibitions of Black art are themselves revolutionary acts—because Black artists are excluded from the canon. The Soul of a Nation exhibit is part of that revolutionary tradition."
---
Thanks for your time, and see you in a couple weeks.
If you think a friend might enjoy this newsletter, please forward it along. You can follow me on Twitter at @dkopf or email me at dan.kopf@gmail.com
The Golden Stats Warrior logo was made by the great Jared Joiner, the best friend a nervous newsletter writer could have. Follow him @jnjoiner. Also, thanks to the brilliant and supportive Natalie Nava for copyediting.