Discover more from The Golden Stats Warrior
Charts and data-based insights about the Bay Area
Searching for Bay Area slang
A hella juiced newsletter
Thanks for joining me for the seventh edition of the Golden Stats Warrior, a newsletter for data-based insights about the Bay Area. If this is your first time reading, welcome! If you haven't signed up yet, you can do that here.
---
I moved to the Bay Area when I was 31, too late to really take on much of the local language. Still, periodically I am surprised to find myself using the word "hella" as a replacement for "very" or "a lot." According to a KQED story, the origins of hella are murky, but it probably originated in Northern California in 1970s, and it likely came from Oakland.
Beyond hella, I was curious about what other Bay Area slang I wasn't aware of due to my old age. The simplest way to learn about this would be to google "Bay Area slang" and look at all the fun articles that appear, but that wouldn't make for a very fun newsletter.
Instead, I turned to a dataset based on 890 million tweets put together geographers and forensic linguists to identify US language trends. For every county in the US, the dataset includes the relative frequencies of the 10,000 most commonly used words in tweets. The data comes from October 2013 to November 2014, so it might be a little behind the times. (My Quartz colleague Nikhil Sonnad made an amazing tool using this data for mapping the geography of word use.)
Using that data, I looked for words that were ten times more likely to be used in Bay Area's nine counties than in the rest of the US. Also, I only kept words that were at least 50% more likely to be used in the Bay than in Los Angeles, just to make sure I wasn't finding California-wide slang. For example, "hella" is thirteen times more commonly used in tweets coming from the Bay Area than in the rest of the US, and more than twice as likely to be used in the Bay than in LA.
Of the 1,214 words that met this criteria, the vast majority were not slang. Most were local places or things, like "Sausalito" and "Caltrain." Also, many Tagalog and Cebuano words show up because of the region's large Filipino population. Tech words like "hadoop" appeared, as did "gentrification." My personal favorite was "zswaggers"—the name for the actress Zendaya's superfans. If you want to look through the list, you can find a searchable and scrollable version here.
Examining the first several hundred words, I did find some words that I was confident qualify as slang. This table has 17 slang words that were at least 25 times more likely to be used in the Bay. The meanings are mostly taken from Urban Dictionary and Wikipedia, and you can find those links here.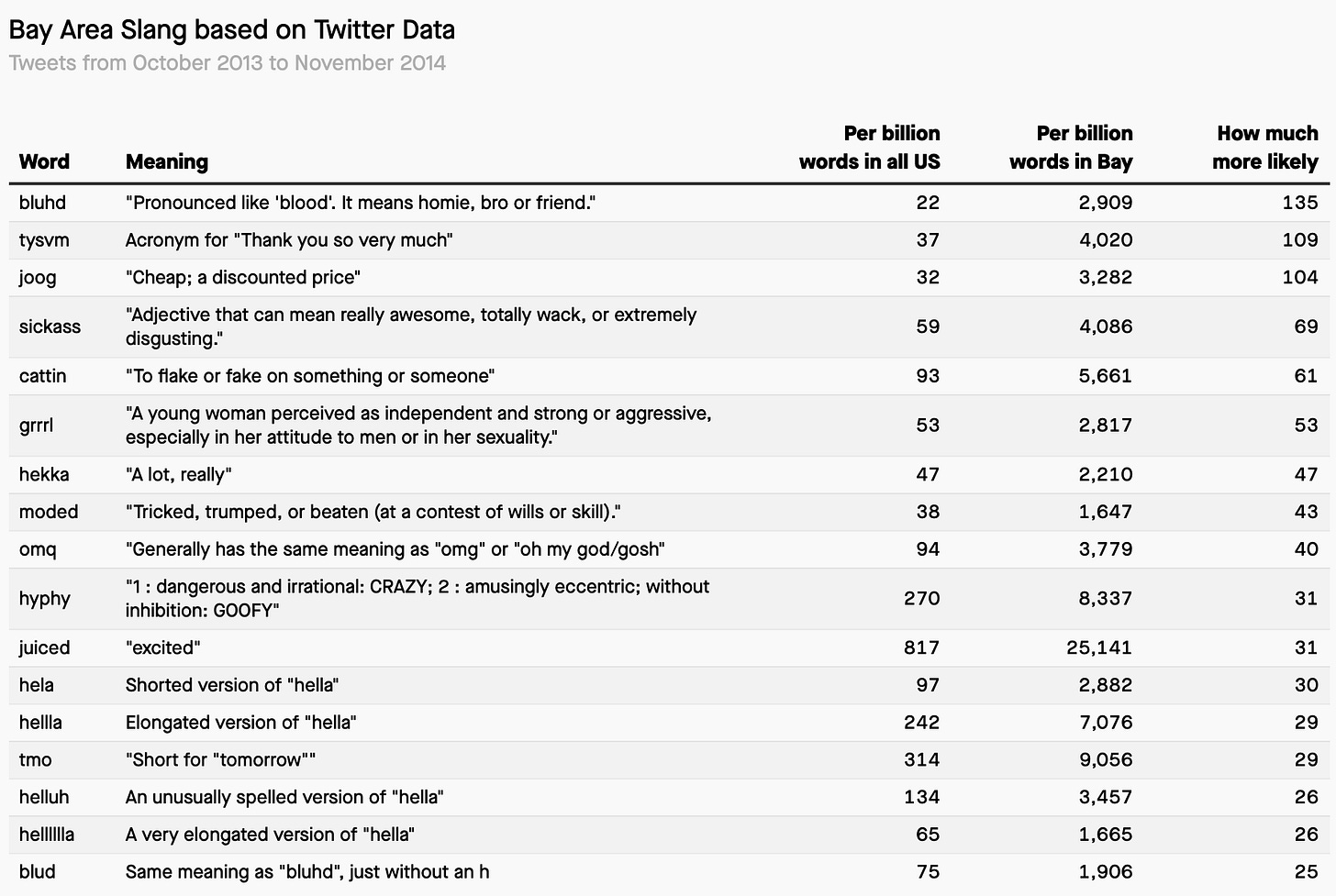 If you are intrigued by how these words actually get used, I suggest searching for them on Twitter. For example, my favorite of these words is "cattin," and I loved this use of the term I found on Twitter from 2014:

Using Nikhil Sonnad's mapping tool, we can see that the Bay Area is "cattin" central, though it has spread to other parts of California, and also gets used in some other parts of the country.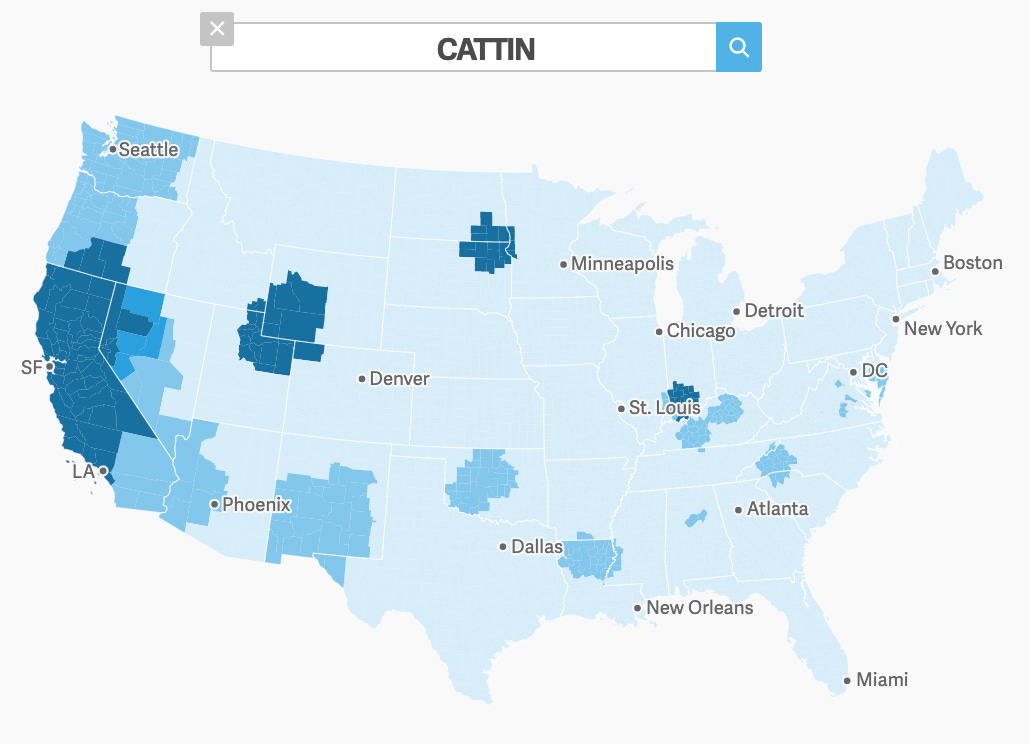 I hope others might go through the list and find slang that I missed. Here is the link again. It's hekka interesting. A few of my favorites lower down the list are "slapp" and "slappin" to talk about music that has a good beat.
Bay Area media recommendation of the week
Living in downtown Oakland, as I do, it is impossible not to be struck by the pace of change in the area. Huge new office buildings and apartment buildings seem to appear every week. The change has fueled concerns that long time residents will be priced out and the cultural fabric of the city will be lost. Others are excited about the economic development opportunities and that new housing will slow down rising rents. A recent article in the San Francisco Chronicle by Roland Li gives a sense of the scale of the city's development, and comes with some amazing visuals (see the picture below). It also notes that big tech is likely on its way, as developers are planning to lure those companies across the Bay.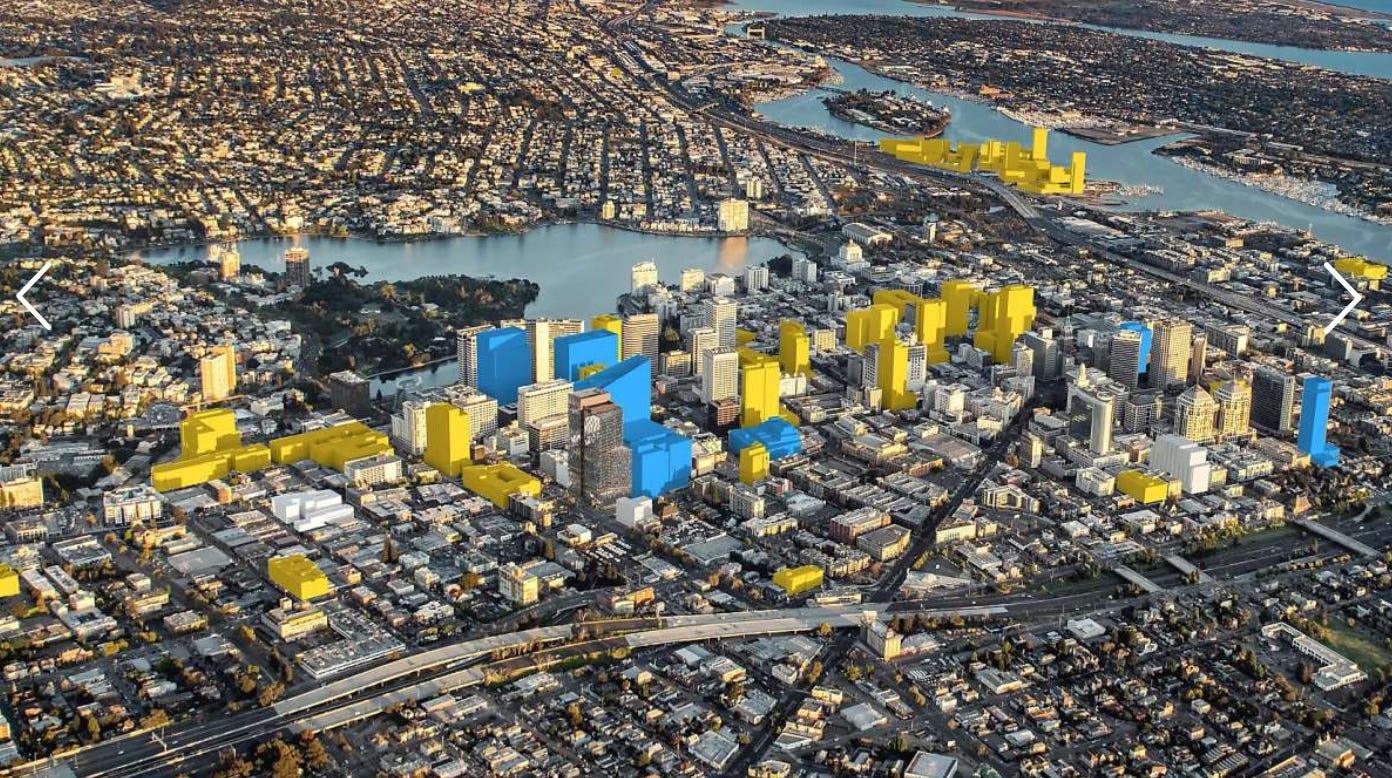 (If you read or listened to something great about the Bay Area this week, please send it to me!)
Dan's favorite things
Each issue I also mention an activity I recommend for those living in the area.
I love jazz, and I am happy to observe that the Bay Area is having a bit of a jazz resurgence. Just over the last five years, several new jazz clubs have opened in San Francisco, and I've noticed more modern jazz acts playing big venues. My favorite place to see jazz in the Bay is the Soundroom, a 70 person venue in downtown Oakland run by volunteers. It's reasonably priced, the sound is great, and the food and drink is excellent. They are moving into a larger space in 2020, so check it out now for the more intimate feel. Javier Santiago on December 19th should be excellent.
---
Thanks for your time, and see you in a couple weeks.
If you think a friend might enjoy this newsletter, please forward it along. You can follow me on Twitter at @dkopf or email me at dan.kopf@gmail.com
The Golden Stats Warrior logo was made by iron man Jared Joiner, the best friend a nervous newsletter writer could have. Follow him @jnjoiner. Also, thanks to the brilliant Natalie Nava for copyediting.