The geography of Bay Area coronavirus
It's all about your Zip Code
Thanks for joining me for the 20th issue of the Golden Stats Warrior, a newsletter for data-based insights about the Bay Area. If this is your first time reading, welcome! If you haven't signed up yet, you can do that here. I am grateful for your support.
---
Usually, when Covid-19 rates are reported, they are discussed at the national, state or county level. This way of presenting the data suggests that Covid-19 is a shared experience for people in these geographies. That's not really the case. We can see that by drilling down to Zip Code data provided by some Bay Area counties.
I live in the 94612 Zip Code in downtown Oakland. There have been 145 confirmed cases in my Zip Code as of August 21, according to data from Alameda County. There are 18,000 people in my Zip, meaning that about 0.8% of the people have had the virus.
Just four miles east of me is the 94601 Zip Code, which takes up most of Oakland's Fruitvale neighborhood. In that Zip, about 3.8% of the more than 55,000 people have had a confirmed case.
This massive disparity between neighborhoods is common across the Bay Area. In San Francisco's 94124 Zip Code, which includes Bayview and Hunters Point, 3.1% of people have had a confirmed case. Five miles away in the 94122 Zip that includes Saint Francis Wood only 0.4% of the population has had a case. (Note that these are confirmed cases, and researchers believe many more people have actually had the virus.)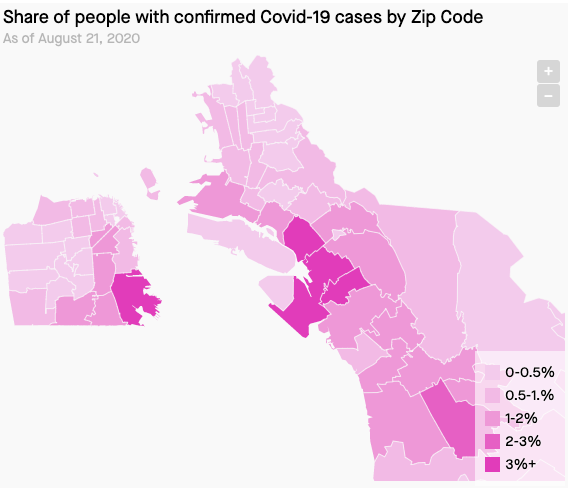 If the map above looks similar to a map you've seen before of Bay Area Zip Codes by income, that's because it does. The richest neighborhoods in San Francisco, Alameda and Santa Clara counties have had much lower rates of coronavirus.
In all but one of the 22 Zip Codes where median household incomes are above $150,000, less than 1% of people have had a confirmed Covid case. Out of the 28 neighborhoods with incomes below $75,000, 17 had case rates above 1%. (This is based on my analysis of US Census income data collected from 2014 to 2018.)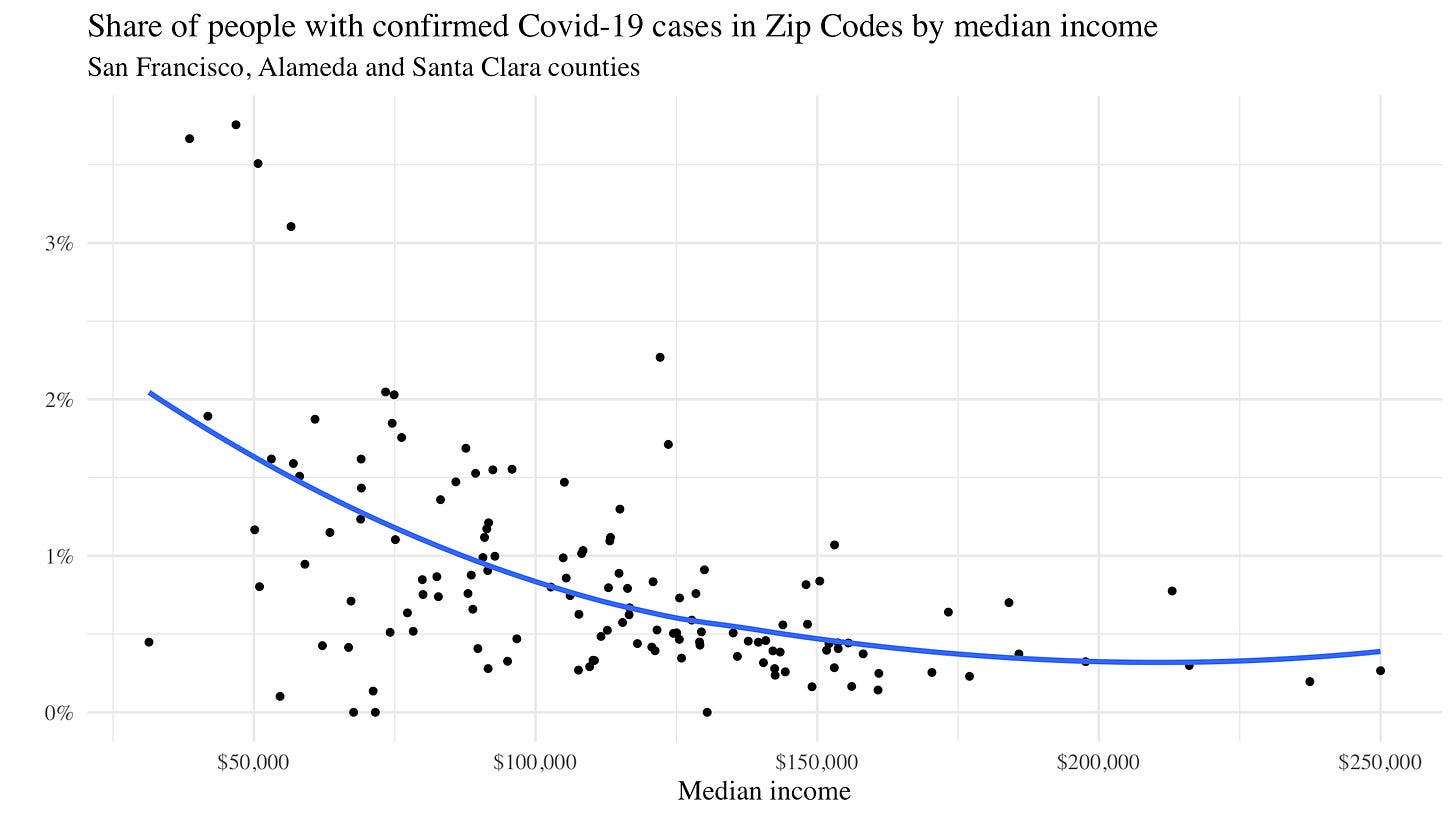 I spoke to my Quartz colleague and science reporter Katherine Foley and she noted that the Covid rates in these Zip Codes are also highly correlated to life expectancy in these places even before Covid. Health is determined by the kinds of jobs, policing and education you have access to, explains Foley, and in the US the same people always get the wrong end of the stick. "It all comes back to structural racism," Foley says.
Most readers of this newsletter will already know this, but neighborhoods with more Black and brown people have been hit harder across California. Hispanic people are three times more likely to contract Covid-19 than White and Asian Californians. Blacks are 50% more likely. 56% of the people in California who have died from the virus are Black or Hispanic, but those groups make up only 42% of the state's population.
The Bay Area is even more extreme in these racial and ethnic disparities, particularly for the Hispanic population. In all three of San Francisco, Alameda and Santa Clara counties, more than half of all cases were among Hispanics, even though they only make up 34%, 23% and 26% of each counties' population respectively.
The chart below shows that looking at the share of Hispanic or Black people in a Bay Area Zip Code is an extremely good predictor of whether that area has experienced a Covid outbreak.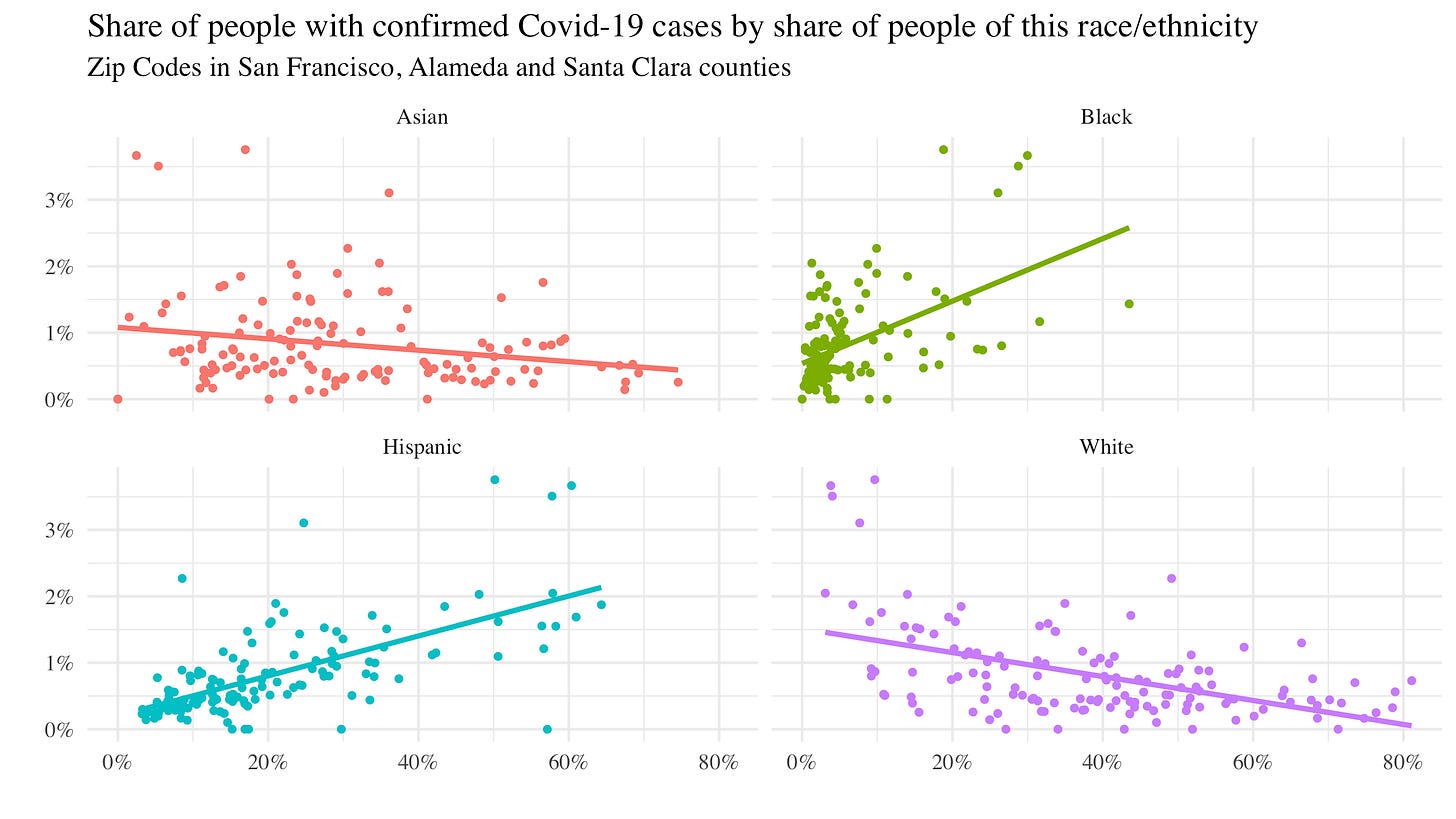 The high Covid rates in these neighborhoods is largely because Black and Hispanic people are more likely to work in front line jobs like grocery stores, cleaning and in restaurants—jobs that can't be done remotely. The Hispanic population is also more likely to live in crowded housing.
Beyond the data, a few pieces of local journalism have helped me gain a better understanding of how the pandemic is impacting certain communities. One is the account of 10-year-old Maggie Carillo Vazquez who called into a Bay Area radio show to ask if her parents could contract Covid-19 for a second time. Another is the story from East Oaklander Orlando Ruiz who recounted his financial and health challenges to reporters from El Timpano and Oaklandside. I suggest you give them a read.
---
Bay Area media recommendations of the week
Last week, Uber and Lyft were on the verge of a shutdown in California. The companies claimed they would suspend operations in the state rather than comply with a California law passed in 2019 forcing gig economy companies to treat workers on their platforms as employees rather than contractors (the law is officially known as AB5). I found the issue incredibly confusing, but CalMatters reporter Lauren Hepler has written a cogent explanation of what's going on.
Uber projects that about 76% of drivers would no longer be able to drive under AB5, and that most of those who would lose their gig would be part-timers. Hepler's reporting suggests people who work full-time for Uber and Lyft are more likely to support the law, arguing that like other workers, they deserve overtime, paid leave, the right to unionize and overtime. Part-time workers tend to be against the law, prizing the flexibility Uber currently offers—the majority of Uber drivers are part-time.
This coming November voters will have a chance to decide whether Uber and Lyft have to abide by AB5. The companies are supporting a proposition that exempts them from these laws, but does guarantee drivers at least 120% of the minimum wage and a health care subsidy. But it would make it nearly impossible for drivers to unionize and get paid leave.
Do you have thoughts on how Californians should vote? I would love to publish pros and cons in the next issue.
(If you read or listened to something great about the Bay Area this week, please send it to me!)
Dan's favorite things
The Bay Area is the land of the pizza co-op, and I love it. From Arizmendi to the Cheeseboard to Zachary's, you can order pizza and know that the workers own the means of their own pizza production. Check out this article from Rosie Cima on how the trend of shared ownership of pizza shops got started at the Cheeseboard and this podcast from Bay Curious explains how it actually works (h/t Tess Brustein). All of these places offer delicious pizza, but if you must get one pie, go for the spinach and mushroom deep dish from Zachary's.
---
Thanks for your time, and see you in a couple weeks.
If you think a friend might enjoy this newsletter, please forward it along. You can follow me on Twitter at @dkopf or email me at dan.kopf@gmail.com
The Golden Stats Warrior logo was made by the great Jared Joiner, the best friend a nervous newsletter writer could have. Follow him @jnjoiner. Also, thanks to my favorite hummingbird lover Kanchan Gautam for copy editing this week.