How the Bay Area got so expensive
That coronavirus payment won't go to far around here
Thanks for joining me for the 14th issue of the Golden Stats Warrior, a newsletter for data-based insights about the Bay Area. If this is your first time reading, welcome! If you haven't signed up yet, you can do that here. I am so grateful for your support.
---
First off, I want to wish everybody physical and mental health. I hope you are all getting the support you need.
This week I want to talk cost of living.
The US government announced several weeks ago that, due to the economic impacts of coronavirus, Americans making $75,000 or less would receive $1,200 from the federal government. It won't go far for people struggling in the Bay Area.
The San Jose-Santa Clara and San Francisco-Oakland-Berkeley metropolitan areas are the two most expensive in the United States, according to the federal government. The "regional price parities" estimates from the Bureau of Economic Analysis found that in 2017, both areas were about 30% more expensive than the overall average for the US.
That means that the check that Bay Area residents will receive is worth about $920 in the rest of the country. In the metropolitan area of Decatur, Illinois, which is 15% cheaper than the US average, the check is worth about $1,400. While working class people in the Bay Area do generally receive higher salaries than those in less expensive places, that will not help much now that many are not getting paid. (Undocumented immigrants, and some other groups, were excluded from receiving this check at all).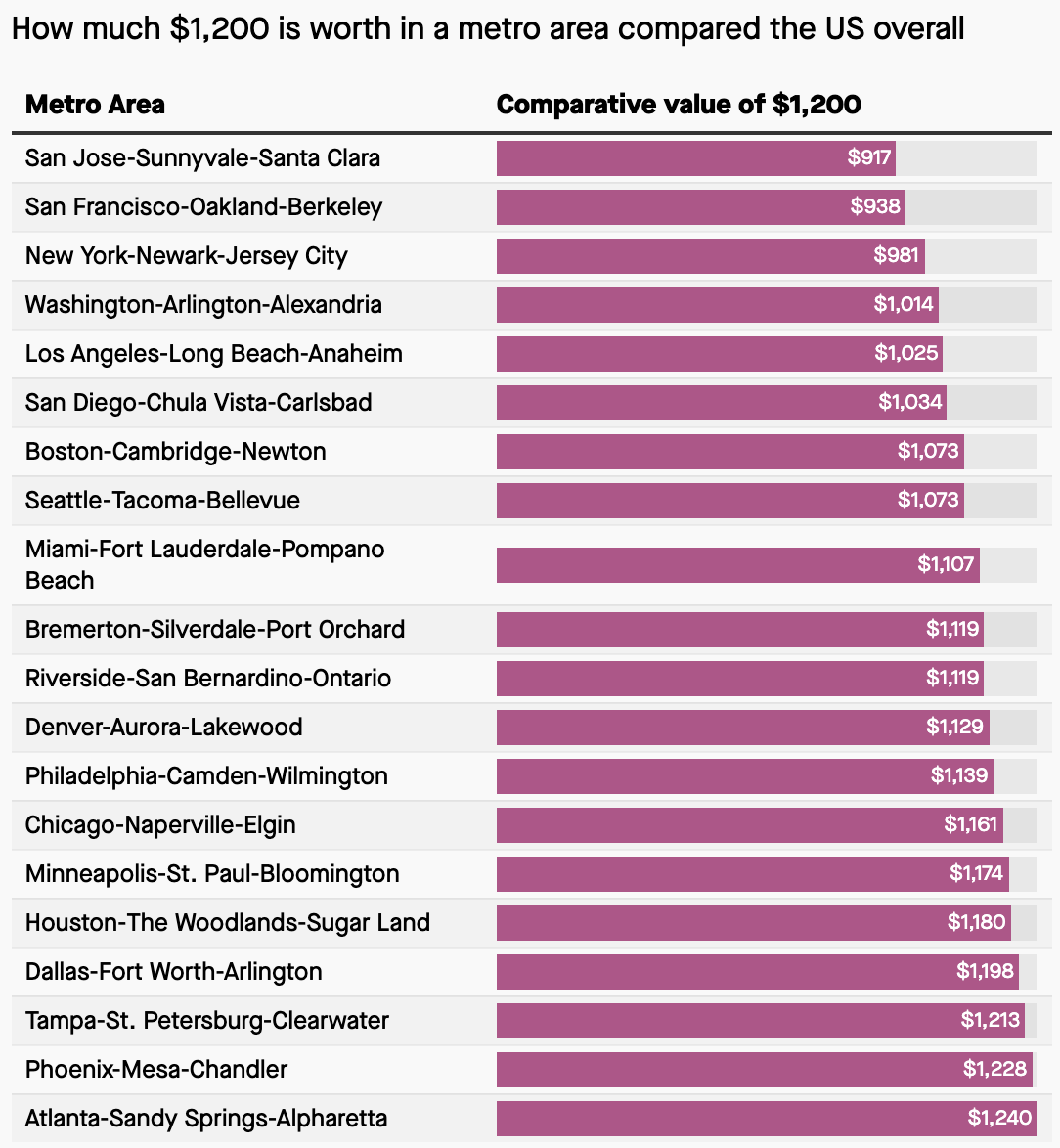 It's not uncommon for poor Bay Area residents to get a raw deal from federal programs. For political reasons, these programs tend to not account for cost of living—senators from Kansas are not excited about giving Californians more money. For example, SNAP (formerly known as "food stamps") is only available to people who make less than 130% of the national poverty line.
The Bay Area has always been an expensive place to live, but it is particularly bad right now. Since 1997, the cost of living in San Francisco grew about 20% faster than the national average, based on data from the Bureau of Labor Statistics. Over that same period New York only grew about 4% faster than average and Chicago's cost of living actually grew more slowly.
The area's cost of living truly exploded during the post-Great Recession recovery. Since 2012, the Bay Area's cost of living has grown about 15% faster than New York. Tech companies were hiring fast and offering huge salaries, drawing people from across the country.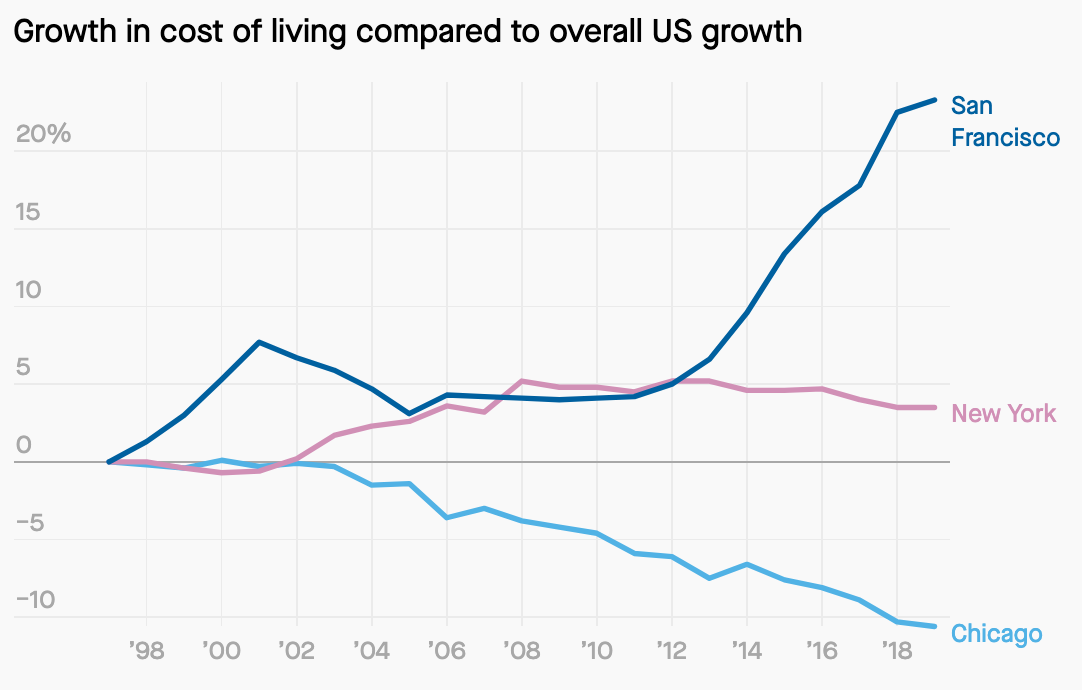 So why exactly is the Bay so exorbitantly expensive? It mostly comes down to housing costs.
The region's culture, economy and natural beauty makes it an appealing place, so there is great demand for living here. The housing supply has not caught up.
Heavy regulation makes it incredibly expensive to build new housing in much of the Bay Area. As a result, much of what is built is only for the super rich. Compounding this problem, large parts of the region are zoned for single family homes only. This means building inexpensive multi-unit housing in these localities is nearly impossible. Another impediment is that groups in wealthy suburbs like Silicon Valley and Marin have fought tooth and nail against any sort of development, preventing these nearby areas from reducing the pressure on San Francisco and Oakland (which both shine in comparison to these rich suburbs). Finally, local and federal governments also haven't invested nearly enough in subsidizing or building low-income housing.
San Francisco's housing prices grew 23% faster than the US average from 1999 to 2019. They only grew 6% faster in New York.
The cost of medical care shot up even faster than the cost of living. It might be due to a lack of competition in the area. The Sutter Health hospital chain has a large share of the market share and uses this to set unusually high prices, according to stories from KQED and the LA Times.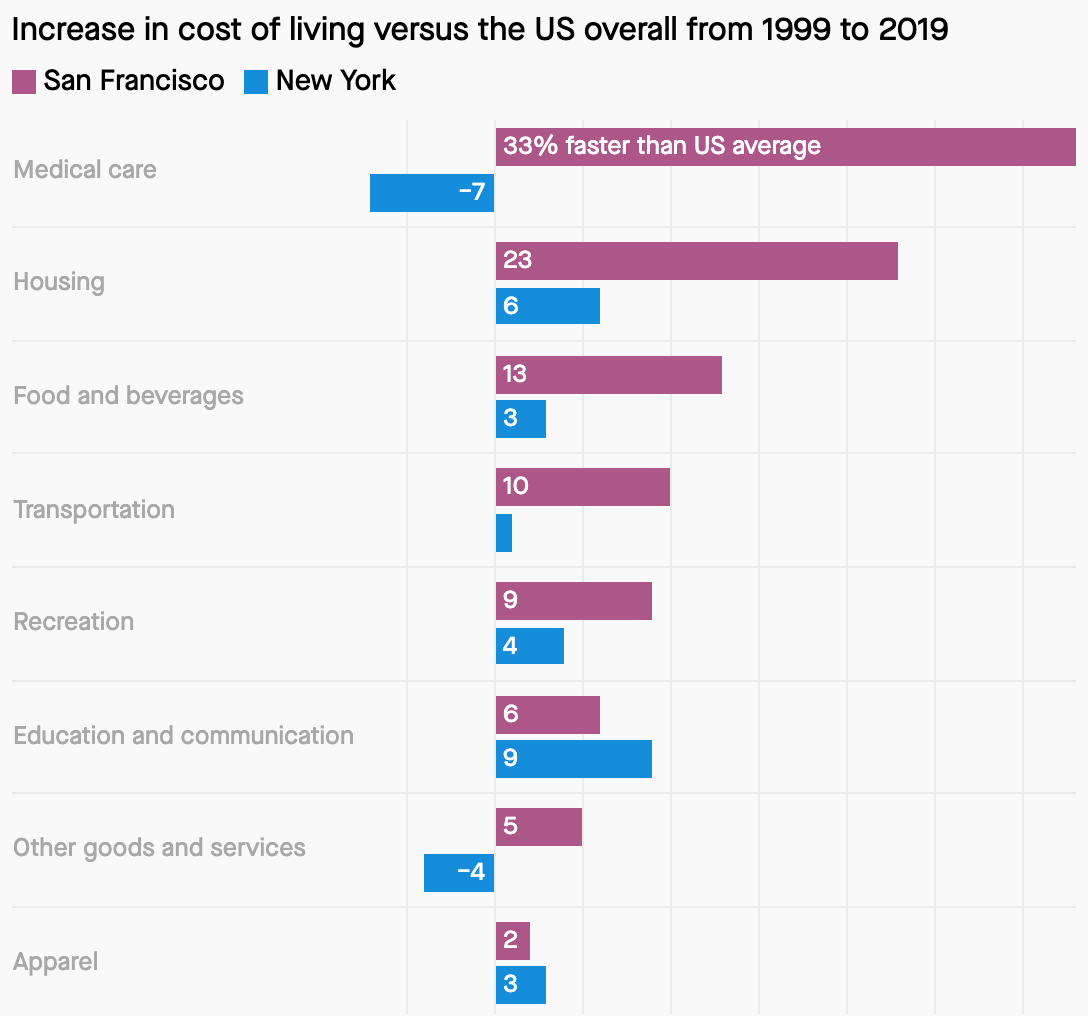 Hopefully after coronavirus is over, the Bay Area community can step up and build enough housing—subsidized and market rate—that it's affordable for all that want to live here.
Bay Area media recommendation of the week
There is some good news and bad news on the local media front.
The good news is that an exciting new online media site is coming to Oakland. The yet to be named project comes from the team behind Berkeleyside and will be fully launched later this year. The site has received over $1.5 million in funding from the Google News Initiative. You can already find their reporting under the "Oakland news" banner on the Berkeleyside website. An excellent recent article by Darwin BondGraham examined whether coronavirus will disproportionately harm people of color in the area. Unsurprisingly, the answer is probably yes.
The bad news is that the San Francisco Examiner and SF Weekly have been forced to cut 40% of their hours and salaries for all staff. KQED's "The Bay" did an informative podcast on how this impacts the breadth of their reporting. To support these publications, you can become a member here.
(If you read or listened to something great about the Bay Area this week, please send it to me!)
Dan's favorite things
There is very little as delightful as the story of the Oakland Buddha. I don't want to give too much away, but I highly recommend you listen to this 99% Invisible episode about how this Buddha went from a trash deterrent to an important religious site. If you can do so safely, go visit the Buddha after you listen. I did it, and it was wonderful to see this manifestation of the magic of this world. There is also some gorgeous residential architecture in the surrounding blocks that makes it an extra fun trip. (Hat tip to the great Tess Brustein for suggesting).
---
Thanks for your time, and see you in a couple weeks.
If you think a friend might enjoy this newsletter, please forward it along. You can follow me on Twitter at @dkopf or email me at dan.kopf@gmail.com
The Golden Stats Warrior logo was made by the great Jared Joiner, the best friend a nervous newsletter writer could have. Follow him @jnjoiner. Also, thanks to the luminous Robyn Perry for copy editing this week.