How coronavirus has impacted Bay Area jobs
The disparities just got way bigger
Thanks for joining me for the 16th issue of the Golden Stats Warrior, a newsletter for data-based insights about the Bay Area. If this is your first time reading, welcome! If you haven't signed up yet, you can do that here. I am so grateful for your support, and I hope you and your loved ones are holding up well.
The newsletter has been delayed due to a rough couple weeks in my professional and personal life. My employer Quartz laid off 80 staff members, including some truly amazing reporters. You should hire them if you can.
---
Covid-19 has devastated the Bay Area job market. The Bay Area region's unemployment rate rose from 2.7% in February to 13.1% in April. This 10 percentage point increase in unemployment is similar to the national rise of 4.1% to 14.5%. (This calculation uses the 9-county definition of the Bay Area.)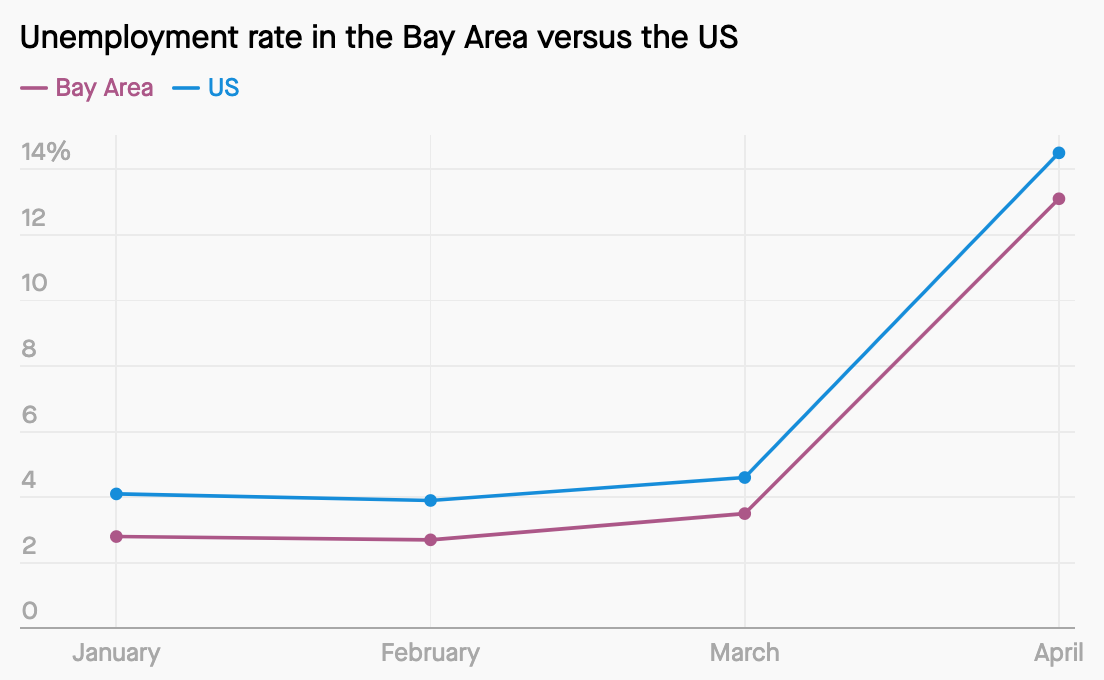 The Bay Area was already a region of staggering inequality, and it appears the virus exacerbated those disparities. The disproportionate impact on the poor in the Bay Area goes beyond what has happened in the rest of the US.
To look at who is losing their job in the Bay Area, I examined data from the Current Population Survey (CPS), a monthly national survey of about 60,000 households. About 1,500 to 2,000 of those households are in the Bay Area. Those surveyed don't represent the region perfectly, so take the following charts with some caution. Still, it's probably the best data available that was collected after the shutdown began with an accuracy between 2-5 percentage points. (The data from the CPS uses a slightly different definition of the Bay Area, suggesting an overall unemployment rate of closer to 16% for April).
When we look at who's losing their jobs during shelter-in-place, low-income families fared the worst. Survey data shows that about 40% of households making less than $50,000 in 2019 became unemployed in February. That is almost four times higher than the rate for those making more than $100,000. Given that low-paying jobs in food service, entertainment, and retail were the hardest hit, it's no surprise poorer families are doing worse. However, the disparity was even more extreme than I had imagined.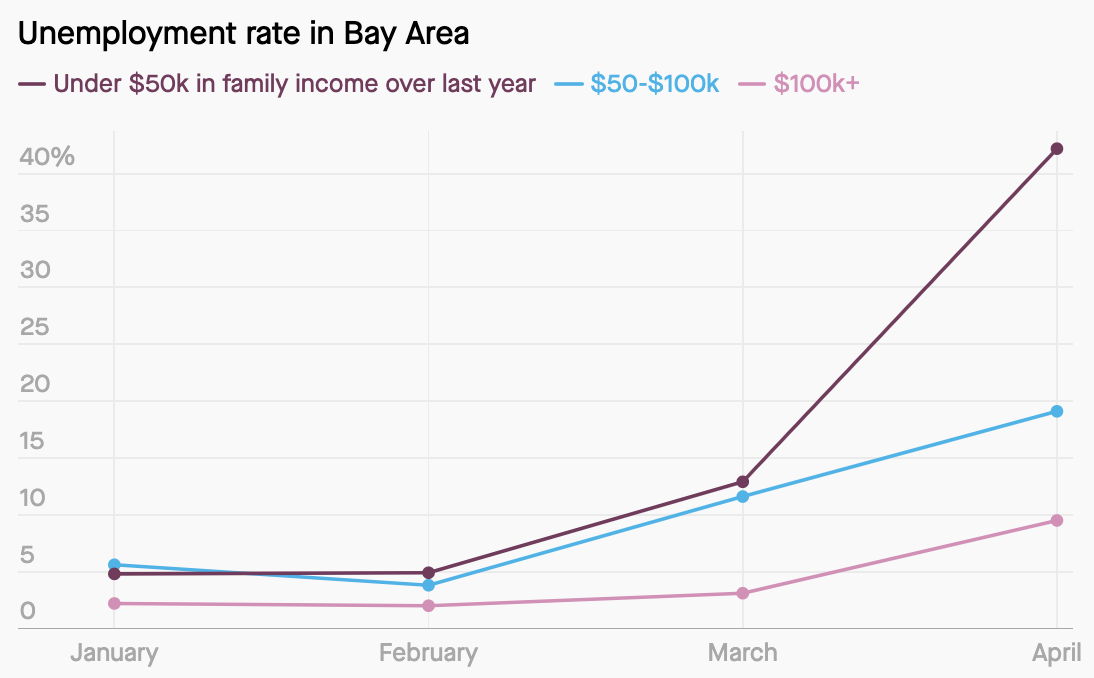 Whether a person in the Bay Area will be unemployed comes down to education (which is, of course, related to education level). The share of non-college graduates who are unemployed went from less than 5% in February to about 25% in April. This jump is comparatively higher than the rest of the country. In contrast, unemployment for college grads was only around 10% in April and just a little over 5% for those with graduate degrees. About 40% of those surveyed did not graduate from college, 30% had a college degree and another 30% had a graduate degree.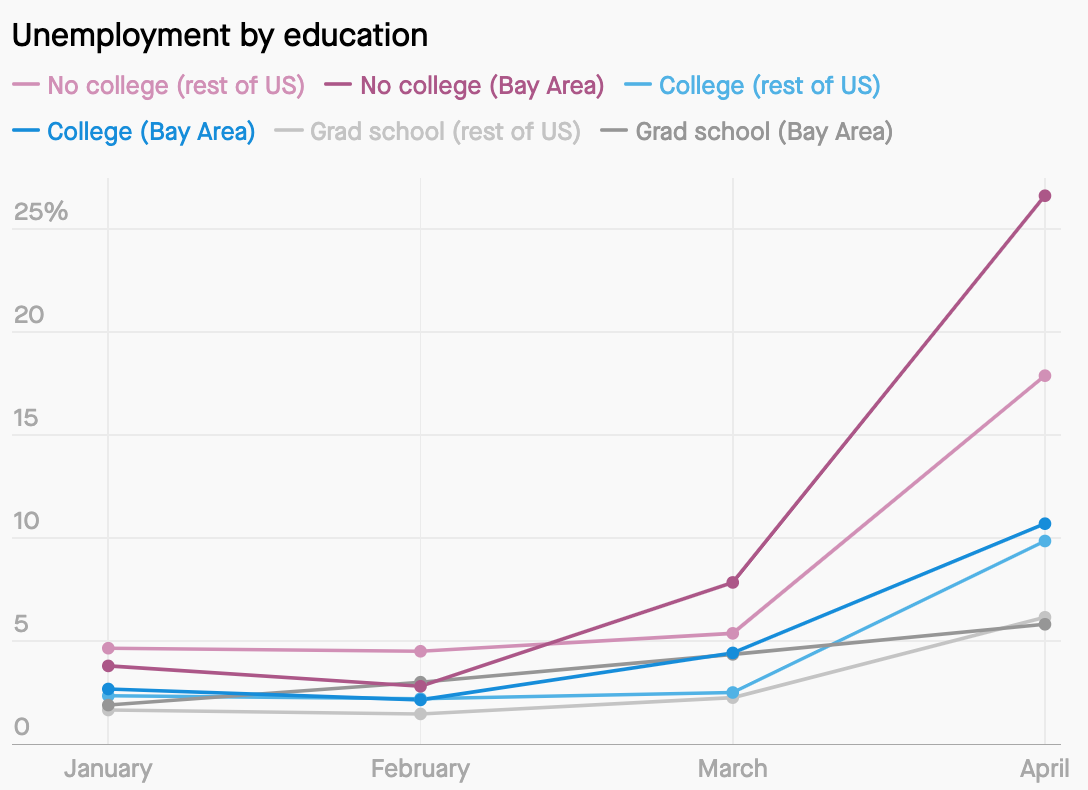 The Bay Area's Hispanic population has also been hit particularly hard by the virus. By March and April, people who identify as Hispanic faced unemployment at nearly double the rate of non-Hispanic people in the region. On average, the region's Hispanic population is generally younger, less likely to have a college degree, and more likely to work in services industries—a very bad combination for this economic downturn.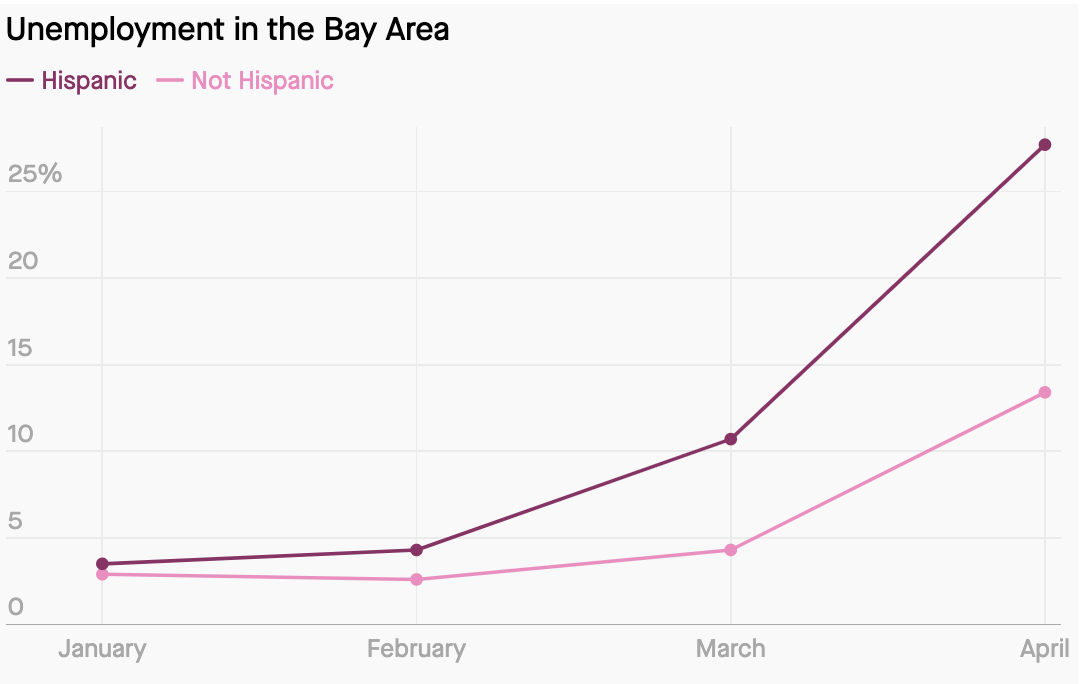 The short-term financial impact on many unemployed workers hasn't been so bad. The federal government's economic aid package passed in late March includes a $600 boost per week to unemployment insurance payments. This extra $600, which goes through July, actually increased the incomes of many low-income people in the Bay Area. The California Policy Lab finds that the typical Californian who lost their job is getting 36% more in income now than they would have if they were employed. Look at this table, from their excellent report, women are earning 47% more per week than they were before the pandemic.

The real trouble for the Bay Area, and for the US as a whole, is what happens when that $600 a week goes away in July. Hopefully, the federal government will step up and support the workers that have been hit hardest.
---
Bay Area media recommendation of the week
California is going to have a huge revenue shortfall in 2020. The latest estimates are that the state will have a deficit of over $50 billion this year. This means big cuts to important programs. A comprehensive article from CalMatters goes over the repercussions. The biggest blow will likely fall on K-12 education, as well as the state's big plan to address homelessness. It's a devastating but important read.

Also, I absolutely loved this video from reporter Jenee Darden at KALW, where she asks what qualifies as East Oakland (h/t to Daniel Wolfe). It's from last November, but relevant as ever.
(If you read or listened to something great about the Bay Area this week, please send it to me!)
Dan's favorite things
The pandemic has me spending more time than ever in the East Bay's beautiful parks. Perhaps my very favorite is the Morcom Rose Garden. Located in the Grand Lake neighborhood of Oakland, the seven-acre park contains 6,000 rose bushes. It's gorgeous, but it's not fusty. The park was built during the Great Depression as part of the effort to get people back to work—making it a particularly meaningful place to visit during this time.
The best part of the park is that there are several wild turkeys hanging out there. They are harmless. But if you see them, their lack of respect for your personal space will quickly make you realize that the park belongs to them, not us.
(Note: Since I wrote that, it seems like the "harmless" bit is, sadly, no longer true. The turkey, as the Chronicle wrote, has gone "NIMBY." The park is closed for the moment as a result.)
---
Thanks for your time, and see you in a couple weeks.
If you think a friend might enjoy this newsletter, please forward it along. You can follow me on Twitter at @dkopf or email me at dan.kopf@gmail.com
The Golden Stats Warrior logo was made by the great Jared Joiner, the best friend a nervous newsletter writer could have. Follow him @jnjoiner. Also, thanks to my favorite polymath Daniel Wolfe for copy editing this week. And—he'd like to inform you—he's for hire.